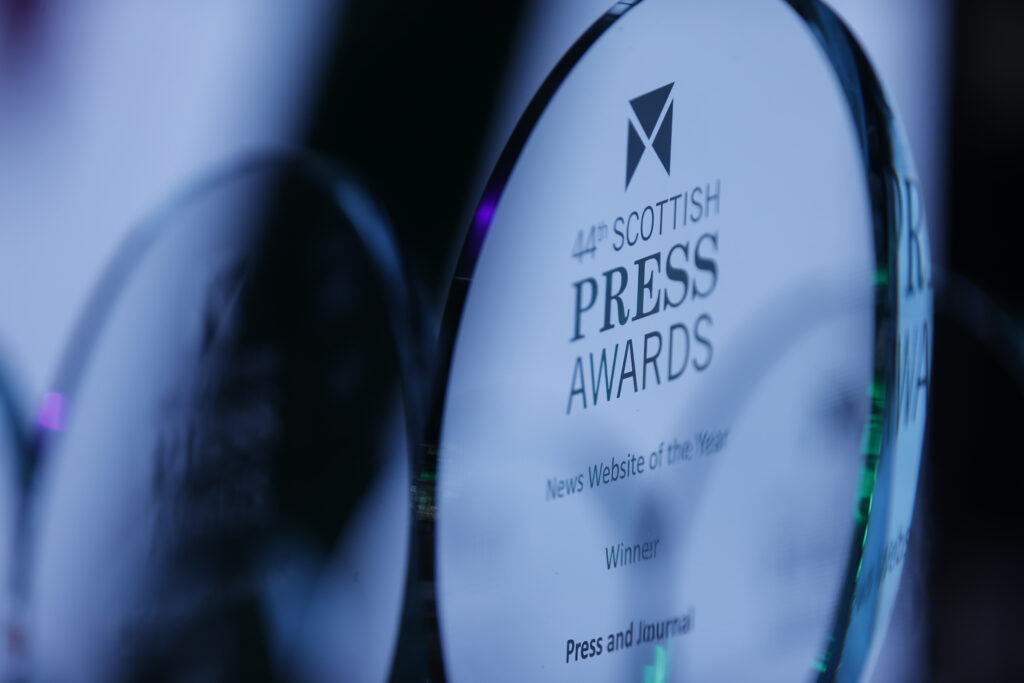 DC Thomson newsbrands and journalists named best in Scotland
Picking up more awards than any other media organisation, DC Thomson's titles and teams have been recognised as the best in the country at the 44th Scottish Press Awards, held in Glasgow last night.
Nine prizes were awarded to the company's newsbrands and journalists, recognising excellence in journalism, ranging from print and digital media, national and regional reporting, sports, features and live coverage.
News website of the year went to The Press and Journal, which judges described as a 'clear winner' for its strength of content and statistical performance. It was praised for being 'anchored in its community' but still telling 'important stories with national significance'.
The Sunday Post took the title of Sunday newspaper of the year for a second year in a row, commended for its ability ability to evolve and find new audiences, without losing sight of its traditional values with 'cover-to-cover quality reporting'.
Marion Scott, chief reporter at the Post took a hattrick of awards. She won both reporter of the year and scoop of the year for her interview with rape victim Denise Clair. Marion was also given the Nicola Barry Award for the second year running, which seeks to 'recognise women journalists at all stages of their career for their work in issue-led reportage'.
Best coverage of a live event went to The Courier (live news team leader Bryan Copland, reporter James Simpson and photographer Kim Cessford collected the award) for their 'outstanding' reporting on last year's Kirkton riots which saw streets set on fire, a school smashed up and fireworks thrown at police officers. Judges praised 'sharp writing' backed up with exclusive and striking photography.
The Press and Journal's live team was named as a very close runner-up in the live event category and 'an exemplar in local journalism' for its coverage of the Skye shooting tragedy.
Sports news writer of the year went to Alan Temple at The Courier in a category judges called 'tough, with an extremely high standard in a big year for sports news'.
The Press and Journal's Stuart Findlay won regional reporter of the year for his 'forensic and gripping' coverage of the Renee Macrae case which also landed him reporter of the year prize at the Highlands Press Awards in February.
The P&J's Dale Haslam, who was nominated for his investigations into the Stonehaven Rail Crash and the Hunt for Mr X documentary, was a close runner-up in the same regional reporter category.
Jennifer McLaren at The Courier took regional feature writer of the year with judges impressed with how her writing was 'uplifting and very much connected to the personal stories told'. Ellie House from The P&J was named runner up in the same category for her 'journalistic rigour and sensitivity'.
Runner up prizes also went to Brendan Duggan (who works across DC Thomson titles) for young journalist of the year, Catherine Deveney writing in The P&J for columnist of the year and Jen Stout at The Sunday post for reporter of the year with her 'haunting front line testaments' from Ukraine.
Tom Miller, DC Thomson's chief transformation officer, said: "These award wins are testament to the passion of the talented teams across our loved titles and their belief that quality, heartfelt journalism really matters.
"We are committed to telling stories that nobody else can, as best we can, for our audiences. And there is lots to be proud of for the many people who contribute to our success, from journalists, photographers and videographers to designers, production, audience, insight and beyond.
"We are putting a huge amount of effort and investment into transformation and building a sustainable model. To be recognised by our peers for how we're going about that is exceptionally heartening."