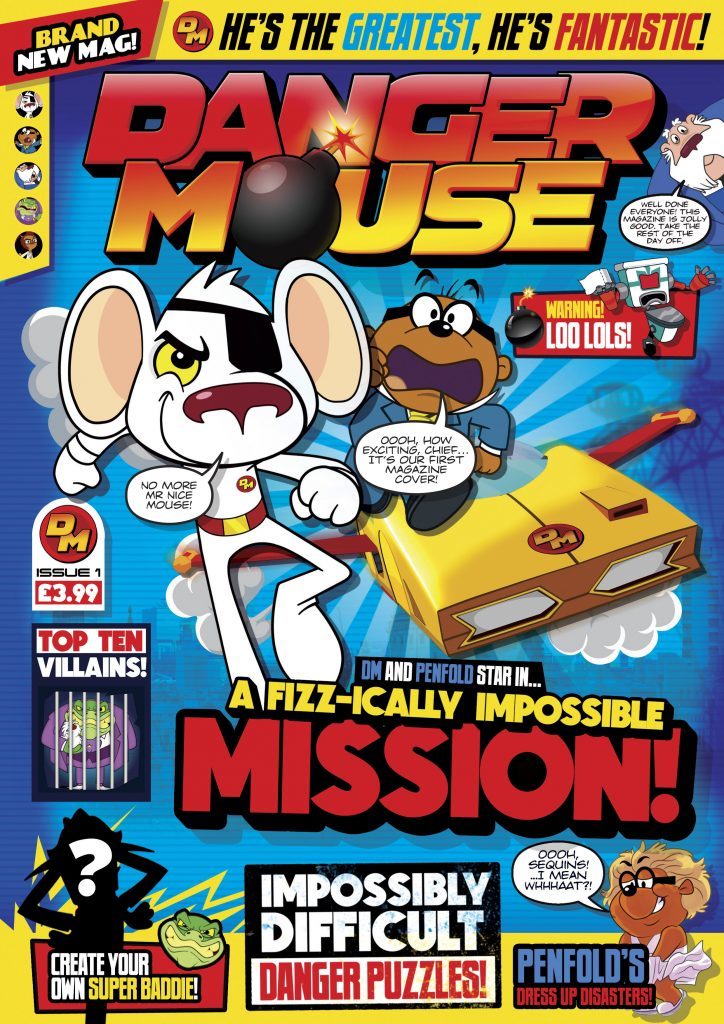 DC Thomson launch Danger Mouse magazine
DC Thomson has launched Danger Mouse magazine, a four-weekly magazine aimed at primary kids.
Danger Mouse magazine is based on the hit CBBC show that sees Danger Mouse saving London, saving the world and, most importantly, saving Penfold in fantastically absurd adventures.
After winning a fantastic 3.6 million viewers in its first six weeks on CBBC, the all-new TV series of Danger Mouse has been a massive ratings triumph.  Ready to replicate this, Danger Mouse Magazine is here.  Danger Mouse Magazine is loaded with laugh out loud jokes, tech-defying gadgets, mind-blowing missions, giant spiders and erm… megalomaniac toilets.
Designed to propel the humour and fun off the screen, the magazine is highly interactive and engaging and will keep kids entertained until the next action-packed episode.  There is no better way to start the day than with a twenty-six mile jog, one thousand light sofa push-ups and a read through of Danger Mouse Magazine.
Gareth Whelan, Editor in Chief, said, "We're delighted to announce the arrival of the world's greatest super-secret agent Danger Mouse and his sidekick Penfold in the all-new Danger Mouse Magazine.  DC Thomson has a proven track record for successful magazine publishing and our vast experience in the children's market is backed by commitment, enthusiasm and passion for providing fun, age-appropriate content.  Working alongside FremantleMedia Kids & Family, we are confident that we will deliver a highly interactive and engaging magazine that replicates the fast-paced rollercoaster ride the TV series provides."
Danger Mouse magazine is on sale from Wednesday 20th July priced £3.99.  Issue one comes with a Danger Mouse eye patch and invsi-pen.