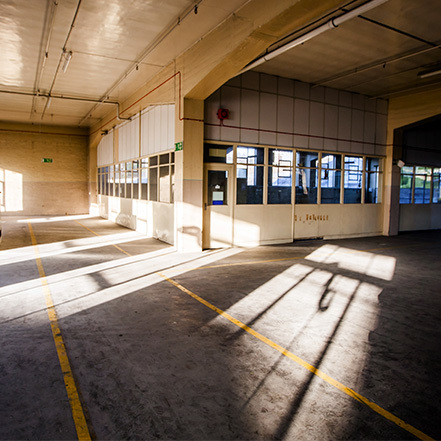 West Ward Works to host first Dundee Design Festival
West Ward Works, the former home of DC Thomson's annuals in Dundee, will host the first Dundee Design Festival this year.
From 25th to 28th May 2016, the former industrial building, one of Dundee's most important historic centres for magazine and book production, will play host to a range of designers, businesses and design collectives for the Dundee Design Festival.
The festival is a four-day celebration of design, marking the city's first full year as the UK's UNESCO City of Design. The festival will showcase design from Dundee, Scotland and internationally, through a large exhibition, talks, demonstrations and workshops.
DC Thomson Director and Chief Operating Officer, David Thomson said, "We're delighted to be able to work in partnership with the UNESCO City of Design Dundee team to host the first international design festival.  It's an opportunity to celebrate the heritage of the building whilst also looking forward to the exciting redevelopment of the city.
"Our company is fully supportive of Dundee's Cultural development, including the V&A Dundee project, and we're keen to contribute to the development of further arts facilities for the city. We've been exploring ideas for the potential revitalisation of our West Ward building as a cultural space and this seemed like an ideal opportunity to try it out! Other former jute mills and industrial spaces have been successfully redeveloped and so we hope that this temporary upgrade for West Ward will help us to understand whether there is an appetite for an arts space at our building in Guthrie Street."
As the major destination for the local, national and international design exhibitions, West Ward will showcase an exciting programme of events during the Festival.  Forums, talks and practical workshops led by designers will allow visitors to experience a diversity of design excellence and innovation.
UNESCO City of Design Dundee's Festival Producer Siôn Parkinson will launch the full programme of activities and events in April 2016.  The open call for designers keen to get involved closes at 5pm tomorrow (FEB 26) and the City of Design team is excited by the many, varied submissions received already.
Anna Day, Manager of UNESCO City of Design, Dundee, said, "We are delighted to be working with DC Thomson to bring this building back to life. It's a hugely important part of the city's heritage and it will be exciting to welcome people in to see the exhibition which will highlight the best design of the future from Dundee and across Scotland."
To keep up to date, please visit www.dundeedesignfestival.com
ENDS
Notes to Picture Editors:
For images of West Ward Works – both current and archive – please contact Fiona Armstrong on 01382 575604 or communications@dcthomson.co.uk
Notes to Editors:
About DC Thomson:
DC Thomson & Co Ltd is a private company and one of the leading publishing houses in the UK.  The company's headquarters is in Dundee, Scotland, with a London base in Fleet Street.  DC Thomson publishes newspapers, magazines, comics and books.  The company also has interests in radio, printing, retailing and online services. www.dcthomson.co.uk @dc_thomson
About UNESCO City of Design, Dundee:
Dundee was designated a UNESCO City of Design in November 2014, the only one in the UK. We are now part of a global design network that includes cities such as Helsinki, Berlin, Beijing, Graz, Shanghai and 16 others.
As a City of Design, Dundee will:
use design as a cornerstone in addressing both social inequalities and opportunities that exist in the city;
share experiences and knowledge about digital design, including links between game design and the arts and sciences as well as contemporary art and design;
set up collaborative projects on interdisciplinary design, combining multiple design approaches to solve social challenges;
focus on social design, redesigning public service and community engagement; and
foster public discourse on the place and contribution of design in contemporary society.
www.dundeedesignfestival.com @designdundeewww.facebook.com/dundeecityofdesign