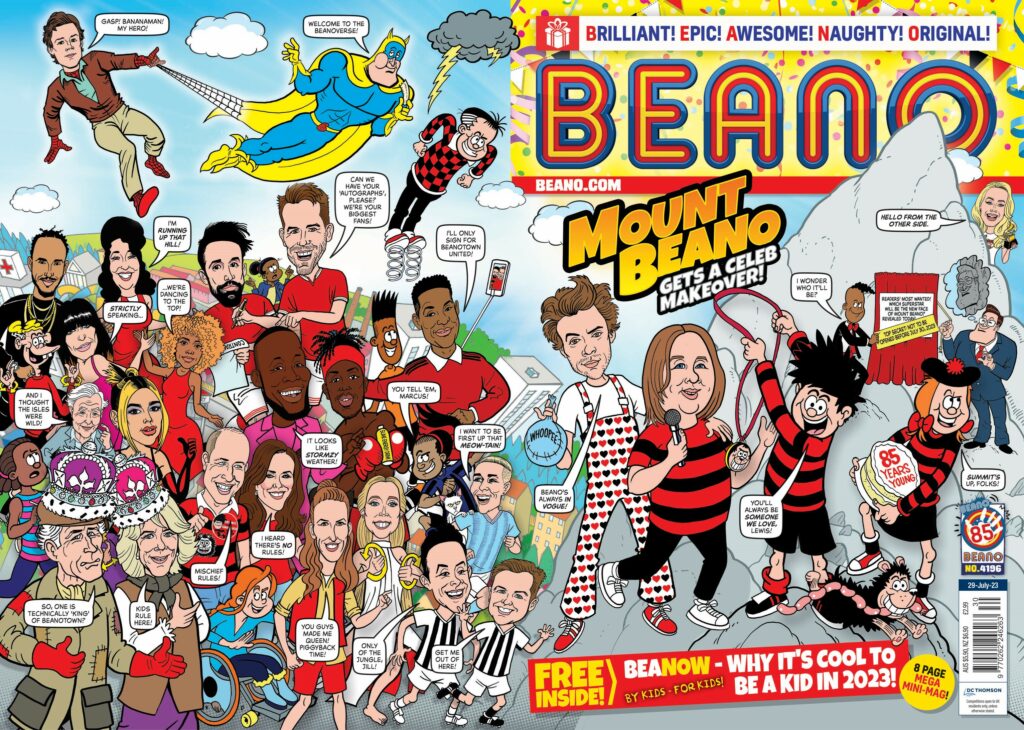 Being a kid never gets old, as Beano celebrates 85th birthday
The nation's longest running comic is celebrating its 85th birthday with a collectible front cover and comic strip.  
Created to celebrate the best bits of being a kid in 2023, the comic was edited in collaboration with thousands of kids – the most ever in Beano's history. 
Stormzy, Harry Styles and David Attenborough are the stars of Beano's 85th anniversary edition. The special commemorative issue also features King Charles and Queen Camilla, alongside celebrities from the world of music, cinema, TV and sport.  
On sale from today, the front cover and comic strip has been specially drawn by Beano artist, Nigel Parkinson. It sees the celebrities assist the Beanotown kids in stopping Mayor Brown from carving his own face into Mount Beano for the birthday celebrations.  
The comic cover showcases King Charles wondering if he's the monarch in Beanotown, as Queen Camilla happily informs him that kids rule in the iconic fictional town. Each of the celebrities featured will become a proud owner of a Golden Dennis & Gnasher Fan Club badge to commemorate their role in Beano's birthday celebrations. 
The comic is still the pulse of the playground after eight decades of jokes and comic capers. A nationwide poll of 3,000 kids aged 7-14 determined which celebrities would be included and who would make the front cover.   
Mike Stirling, Director of Mischief at Beano said, "As Beano proudly celebrates its 85th anniversary, it continues to champion the power and joy of childhood by doing what it's always done, showing kids being kids. Here's to the next 85 years, and we dedicate this birthday issue to every child out there, because being a kid never gets old."