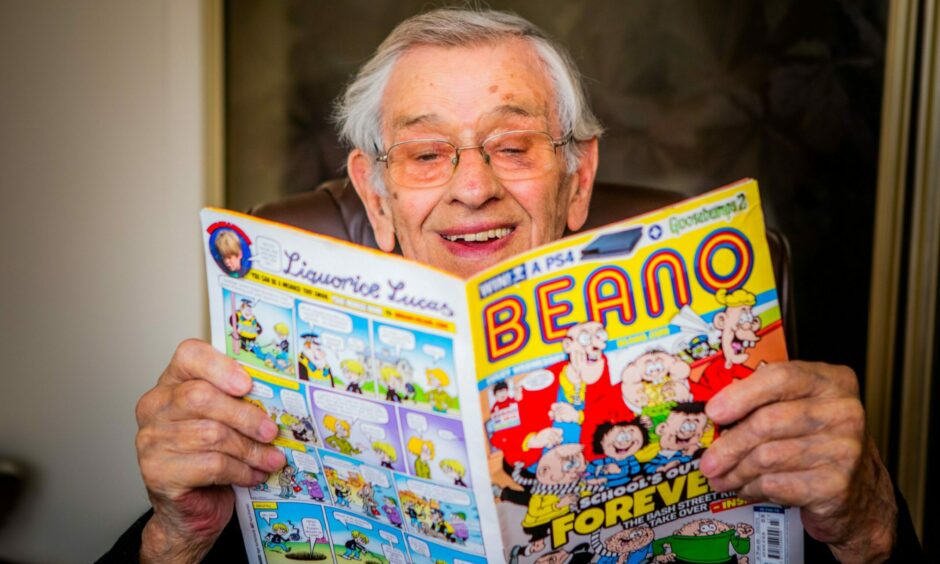 David Sutherland OBE 1933-2023
David Sutherland, the artist who gave life to some of Britain's best-loved comic characters, has died aged 89.
He was the creative force behind Beano's Bash Street Kids from 1962 until he drew his final comic strip at the end of last year. That illustration will appear in this week's issue of Beano, to be published on Wednesday.
It will be the first and only pieces of his artwork to be bylined 'David Sutherland OBE', in recognition of the award he received in the New Year Honours.
David also drew Dennis the Menace for over two decades years, and Biffo the Bear, which he took over from his hero, Dudley D. Watkins.
John Anderson, Beano editor, said David Sutherland's contribution to the comic and British comic history will never be matched: "No one will ever repeat what David achieved over 60 years. He was one of a kind, a genuine legend. It is the end of an era. Given that David started working for DC Thomson in 1959 and had been drawing The Bash Street Kids since 1962, he is the single most important illustrator in Beano history."
Christopher Thomson, Chairman of DC Thomson, said: "David was a tremendously talented artist and creative and we are immensely grateful for the outstanding contribution he made over the last 60 years. He brought joy to our beloved audiences – children and adults alike – and to those who were fortunate enough to work alongside him. He will be much missed, and his legacy will undoubtedly have a lasting impact for many years to come."
Nigel Parkinson, current Dennis & Gnasher illustrator, said David's work had thrilled Britain for six decades. "The nation and its children and grandchildren and great grandchildren have all loved David Sutherland's joyous, happy, teeming-with-life, hilarious drawings nearly every single week in Beano for 60 years, he has touched the heart, tickled the funny bone and amused the eyes of millions."
In his early years with DC Thomson, David was understudy to legendary comic creators Leo Baxendale and David Law. He also ghosted for Dudley D. Watkins, the artist behind The Broons and Oor Wullie, which first appeared in The Sunday Post and remain part of Scottish iconography to this day.
Steve Bright, a long-standing DC Thomson illustrator, said: "David Sutherland was an unsung hero to me when I was a boy, avidly devouring and copying his wonderful Bash Street Kids, as I learned how to draw by sketching in his footsteps. Every line taught and inspired me more and helped determine my ambition to one day draw comics and cartoons as a career."
In 1959, David entered a drawing competition organised by DC Thomson. His artwork made such an impression that he was invited to illustrate adventure strips for Beano.
David began work on Beano adventure strips such as Danny on a Dolphin and The Great Flood of London.
His ability and versatility were obvious to the editor and soon he was working on some of Beano's most famous strips as an understudy to the established comic greats.
By 1970, David was the mainstay of the comic, drawing Biffo the Bear on the cover, The Bash Street Kids in the centre spread and Dennis & Gnasher on the back cover.
He drew well over a thousand episodes of Britain's favourite wild child, Dennis, over a 28-year period from 1970 until 1998.
But it was on The Bash Street Kids that he would create his greatest legacy (his first and last strips are shown below).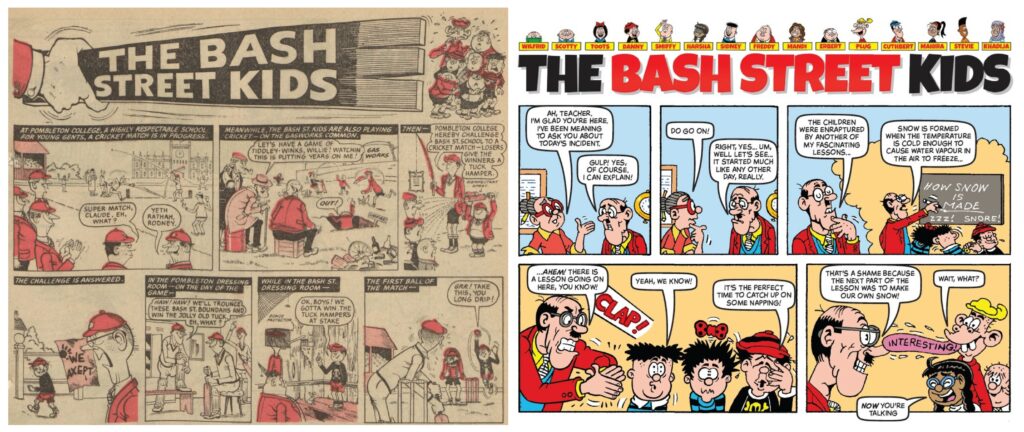 David replaced Leo Baxendale on the strip in 1962 and produced his final illustration at the end of last year, for publication this week.
Over the years he drew well over 3,500 individual instalments in the comic. When you include annuals and other specials this takes the total to over 4,000 episodes.
John Anderson Beano Editor said: "This brings us to another of his defining characteristics – his dedication. David, even when he was in his late 80s, was still delivering a Bash Street Kids comic strip every week. David was a man of enormous warmth. He cared not just about the quality, but also about the readers themselves and this came through in the work. No matter how well you imagined your script would look in comic strip form, he always made it better with subtle background details and unexpected perspectives."
Mike Stirling, creative director of Beano Studios, said: "David had been very much part of the work to modernise the Bash Street Kids in terms of inclusion and diversity.
"In his late 80s he was as enthusiastic and as energetic as anyone in adopting our new characters, giving them a provenance that is very important."
A version of this piece appeared in The Courier here.