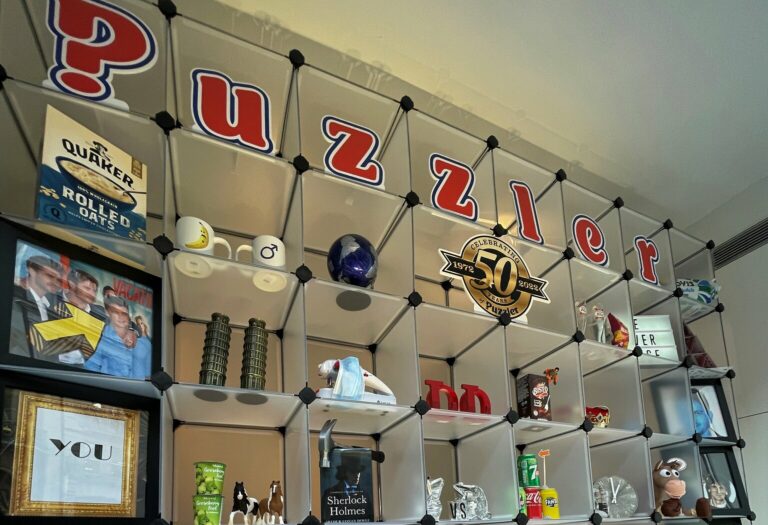 It's party time for Puzzler Media
Back in 1972 Puzzler hit the newsstands as the nation's first ever dedicated puzzle magazine. Now, Puzzler Media turns 50 and they're celebrating in style.  
What better way to mark the occasion than a specially designed puzzle!? Screen Test is 50 cunning 'rebus' puzzles based around TV shows from the last 50 years. This real-life installation has been in the window of the DC Thomson Fleet Street office since the 9th November and has caused a bit of head-scratching from passers-by as they ponder what a hammer sitting on a pile of Sherlock Holmes novels could possibly represent… For those who aren't in or around London but still love to solve puzzles, Screen Test is also available online.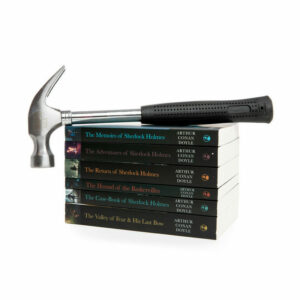 Puzzler's head of innovation, Shameem Begg says: "We wanted a live experience to spread some joy to the millions of people who play puzzles every day. We knew it had to be something fun that spanned generations – just like Puzzler!   
"We all remember, with great fondness, TV shows from our youth so we've created a set of 50 visual clues to represent 50 of the UK's best known TV shows from the last 50 years. Rebus puzzles make you smile when you solve them, the TV show Catchphrase is a great example – it started back in 1986 and people continue to watch it today because it's so much fun to play along."   
The fun doesn't stop there… Puzzler Media released a gold-foiled edition of Puzzler, featuring some iconic and original puzzles, exclusive competitions and a special Miranda-themed selection curated by the one-and-only Miranda Hart. 
Miranda says, "I'm genuinely thrilled to have been asked to be guest editor for Puzzler, for it has been a good friend to me during both the good times and bad times of my half-century in this world. Yes, I too am turning 50 this year – all the greats were conceived in 1972 (my wholly unbiased opinion…)."