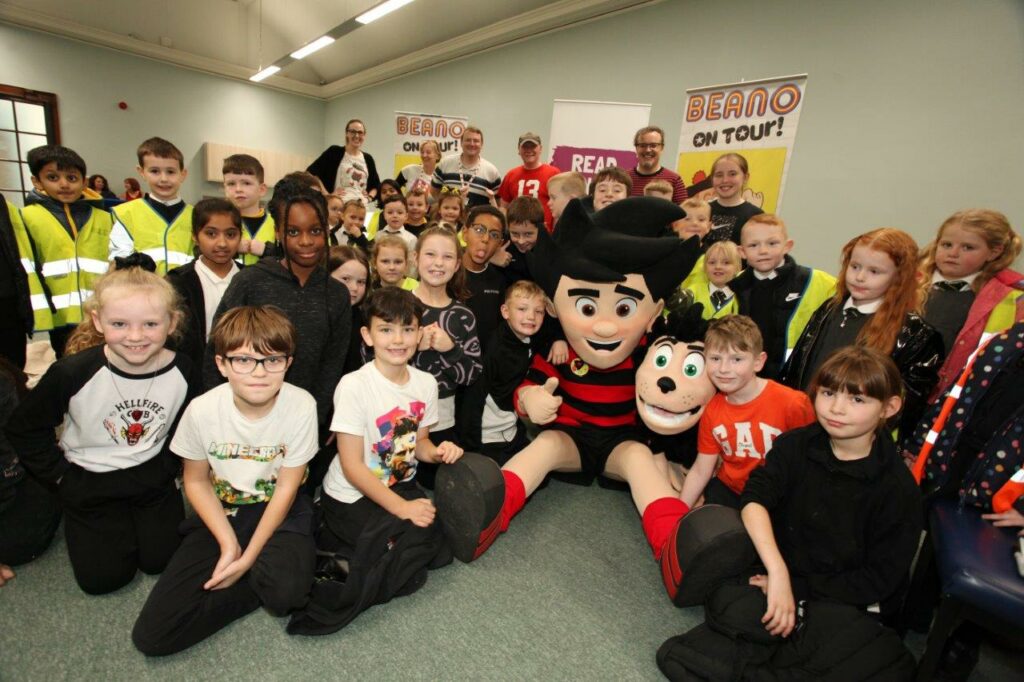 Beano helps welcome National Literacy Trust to Dundee 
Dennis and Gnasher joined pupils from Ss Peter & Paul RC Primary School, and Mike Stirling and Craig Graham from Beano, to help launch the Dundee Literacy Hub from the National Literacy Trust (NLT), the first in Scotland and the 18th in the UK. 
The Literacy Hub is supported by the Northwood Charitable Trust (set up by a member of the Thomson family), Dundee City Council, and community partners and schools and is designed to tackle literacy issues in communities where low levels of literacy are seriously impacting people's lives.  
Beano has been working with the National Literacy Trust (NLT) since 2016 with a shared aim of promoting lifelong reading for pleasure. Over the next ten years, as part of a campaign called Read Dundee, the project aims to raise literacy levels across the city in children aged 0-12. 
As well as Beano lending its support to the launch of the Literacy Hub, DC Thomson's director of brand marketing Fiona Hickley and Morag Neville of the Northwood Charitable Trust joined Lord Provost Bill Campbell, Dundee City Council's Chief Education Officer Paul Fleming and Jonathan Douglas, Chief Executive of the National Literacy Trust, at the City Chambers to mark the start of the project. 
Fiona will represent DC Thomson on the strategic steering group for Read Dundee. 
"Through Beano, we've been working with NLT for quite a while, we both want to get children reading for the sheer fun and joy it brings", she says. "Recently we co-created a Beano schools kit that has been distributed to 23,000 primary school pupils over the past two years.  The NLT were also instrumental in Marcus Rashford's Beano guest editorship, in July, as he is an NLT ambassador. 
"I'm so pleased that National Literacy Trust is bringing its incredible expertise to Scotland and that so many partners have come together to make this happen in Dundee. I'm looking forward to involving more DC Thomson brands and teams in the NLT work in Dundee.  After all, readers are our lifeblood" 
You can read more about the Literacy Hubs at https:/literacytrust.org.uk/communities/