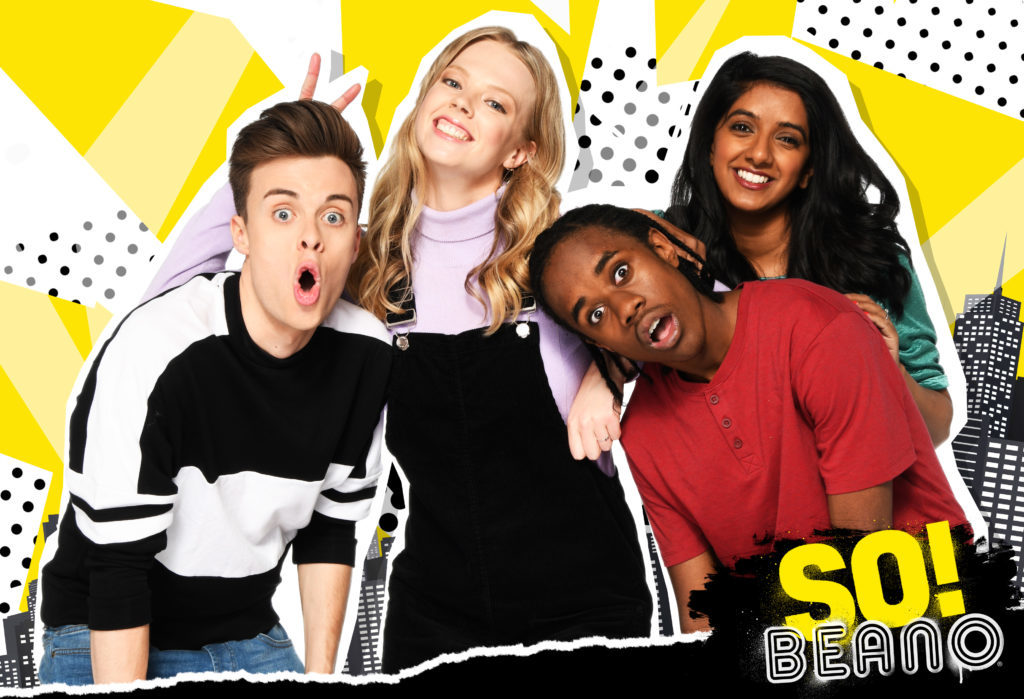 New Sky Kids Show Inspired by Beano and the Kids of the UK
SKY KIDS has taken further steps to establish itself as the premier destination for Kids entertainment by announcing a new deal with Beano Studios to produce a brand-new TV show 'SO Beano!'; inspired by the rebellious and anarchic ethos of Beano.com, the multi award-winning digital kids platform.
Filmed at Sky's state of the art facilities – and to be available for customers on Sky, the SKY KIDS app and NOW TV kids platform – the new presenter-led entertainment show is inspired by the hottest trends and most loved content on Beano.com – from mad dance crazes and LOL-tastic comedy sketches to guest challenges and fresh new cartoons.
26x15min episodes, aimed at 8-11-year olds, showcase brilliant, young, diverse UK creatives both in front of and behind the camera. The show includes eight unique sketch acts and fresh talent in the form of presenters, animators, comedy writers and performers.
The show is hosted by rising YouTuber Joe Tasker, comedy actress Nimisha Odedra, online fan favourite Emma Shaw and Joseph Robinson who makes his debut TV appearance .
Showrunner George Sawyer (writer for Emmy Award winning 'Horrible Histories' and BAFTA nominated Disney animation 'Counterfeit Cat') brings his directing and producing expertise to Beano Studios' flagship entertainment show.
SO Beano! marks the continued evolution of Beano Studios from a much-loved comic to a highly innovative, multi-platform entertainment producer and digital network, engaging kids across all screens with long and short form content.
Emma Scott, CEO of Beano Studios' said: "It's so great to work with the highly innovative, creative team at Sky Kids and bring the very best of our riotous daily Beano digital mayhem to its audiences! We're really excited to showcase new, young and unsung UK digital talent with such a well known broadcaster. This new TV show embodies our kid-led mentality by bringing their loves and obsessions to screens across the land in a festival of hyper-relevant mayhem! "
Head of Sky Kids, Lucy Murphy added: "We can't wait to bring a bit of mischief to Sky Kids this autumn! This show really celebrates all the humour, mayhem and irreverence that kids (and their parents) love from the Beano.. There isn't a kids show out there like it and it promises to bring something fresh to our screens that taps into everything kids love."