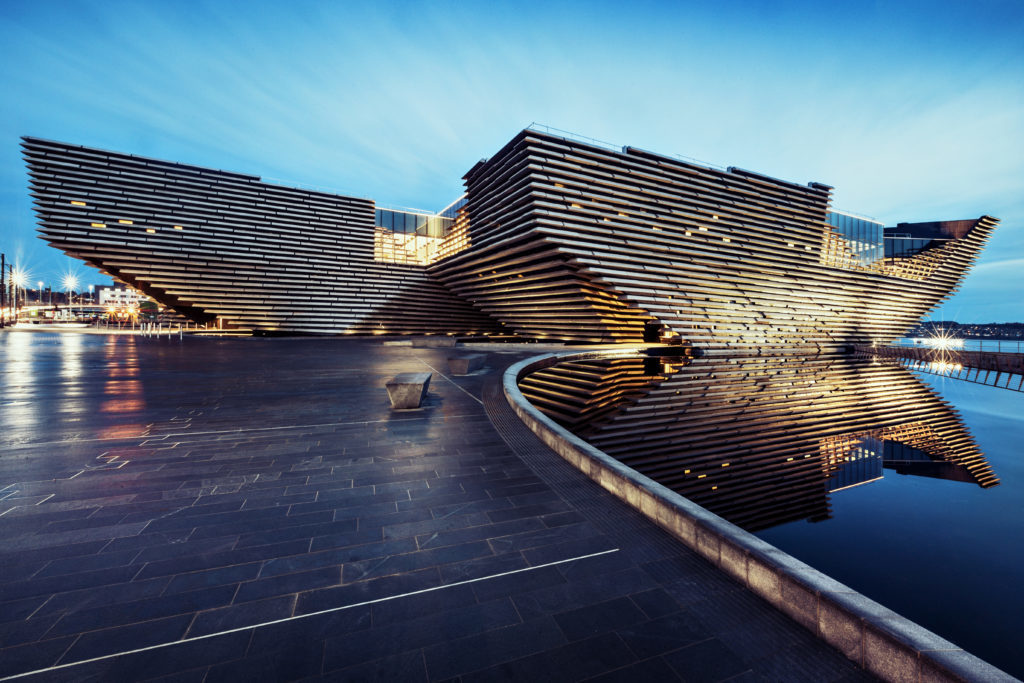 Press Release from V&A Dundee
3D Festival secures £250,000 sponsorship from 3 companies with close links to Dundee
V&A Dundee's 3D Festival, a two-day celebration of design, music and performance to mark the opening of the new museum, has received £250,000 of sponsorship.
Three companies with close links to the city have pledged their support to the festival which is being co-designed by young people from across Dundee, working alongside promoter and events company DF Concerts and Events. A funding boost is also coming from the charity Arts & Business Scotland.
Up to 20,000 people from Dundee, Scotland and around the world are expected to attend the free festival, which will take place in Slessor Gardens at the centre of the Dundee waterfront.
Award-winning wealth managers Brewin Dolphin, which has an office in Dundee, is one of the firms backing V&A Dundee's 3D Festival.
Ian MacDonald, Head of Brewin Dolphin's Dundee office, said: "As proud supporters of V&A Dundee, Brewin Dolphin is delighted to be involved with the opening 3D Festival, which will be a spectacular and colourful event. The opening of the museum is a momentous occasion for Dundee and Scotland, and chimes with Brewin Dolphin's desire to create a lasting legacy for future generations."
DC Thomson, a leading media organisation headquartered in the city, is also supporting the two-day festival. The Northwood Charitable Trust, the Thomson family's private charitable trust, and DC Thomson have both gifted significant funds for the development of the new museum.
Andrew Thomson, DC Thomson Chairman, said: "We're delighted to support V&A Dundee and, in particular, look forward to the exciting opening of this international centre of design. We're proud to be supporting our community in the form of this world-class attraction. It's a positive time for the city and we're very pleased to be playing our part."
Further support has been pledged by NCR, a global supplier of self-service technology. The business, which employs 500 people in its Dundee Research and Development Centre of Excellence, designed and built its first ATM in the city more than 40 years ago.
Adam Crighton, Vice President of Hardware Engineering at NCR, said: "NCR has been part of the Dundee community since 1946, and continues to have a strong presence in the city today through the design and innovation advancements taking place in our Discovery R&D campus. Working with the V&A Dundee team and supporting the launch event gives NCR a great opportunity to be part of the exciting changes taking place across the city."
Arts & Business Scotland, which promotes collaboration between Scotland's business community and the arts and heritage sectors to deliver new cultural projects, is also providing match funding for NCR's sponsorship of the 3D Festival via its Culture & Business Fund Scotland.
David Watt, Arts & Business Scotland Chief Executive, said: "Marking the launch of V&A Dundee this September, the 3D Festival will be a fantastic showcase for everything Dundee has to offer in this very special year for young people in Dundee and throughout Scotland. Bringing together three prominent local businesses to help make it happen, it's also a perfect example of the substantial mutual benefits business and the cultural sector can achieve by working collaboratively together."
V&A Dundee's 3D Festival is a key event in Scotland's Year of Young People 2018, a year-long programme of events and activities.
The additional £250,000 funding boost follows previously confirmed support from EventScotland, part of the VisitScotland Events Directorate, and from Scotland's Year of Young People 2018 event fund.
The 3D Festival will open on the evening of Friday 14 September, the eve of the museum's official opening, and will continue through the day on Saturday 15 September.
The full line-up will be announced soon so members of the public are encouraged to sign up to V&A Dundee's e-news on www.vam.ac.uk/dundee for the latest news and updates and the chance to register for tickets when they are released.
3D Festival
The 3D Festival will run from Friday 14 September to Saturday 15 September to mark the official opening of V&A Dundee. It is being co-designed by V&A Dundee's Young People's Collective and managed by DF Concerts & Festivals on behalf of V&A Dundee. The two-day festival is a key event in the Year of Young People 2018.
The full festival line-up will be confirmed over the summer. The latest news and updates about the 3D Festival and how to register for tickets will be available to those signing up to V&A Dundee's e-news on www.vam.ac.uk/dundee
V&A Dundee opens on Saturday 15 September 2018.