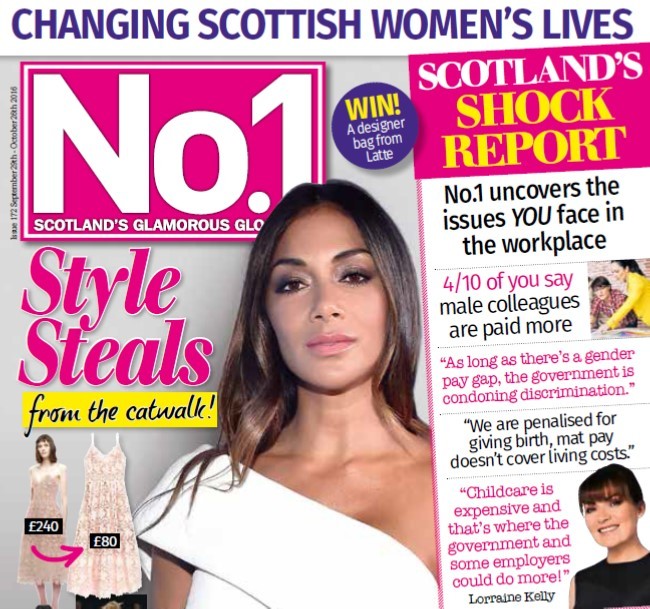 No.1 Magazine Reveals Shocking Results of Scotland-wide Survey
No.1 Magazine has surveyed over 1000 women in Scotland to find out how they feel they are treated in the workplace.
The survey polled opinion of treatment of new mums, comments on appearance, and the women vs. men pay gap.
Nadine Hawkins, Editor, said, "Our survey revealed that women in Scotland are still facing a huge number of challenges in the workplace and although there is progress being made in many sectors, we still have some way to go before we can achieve not only true equality, but also improved conditions for women returning to work after childbirth and for those with caring responsibilities."
The survey responses suggest that despite women's rights campaigns and equal pay legislation – women still feel discriminated against in Scotland.
These exclusive survey results revealed that;
• 62% of respondents don't think enough is being done to help women achieve a more senior role in the workplace
• 1 in 4 have been discriminated because of age
• 59% said new mums aren't given enough support
• 74% said carers do not get enough support
• 1 in 4 have experience sexual harassment in the workplace
No.1 teamed up with Glasgow based Close the Gap for this initiative, a project working on women's participation in the labour market. They work with employees, employers and policy makers to enable and encourage action to address the causes of women's inequality at work
In issue 172 of No.1 they have highlighted 'Scotland's Trailblazers' and have exclusive interviews with Lieutenant Colonel Gill Wilkinson, The world's first female Master Blender, Rachel Barrie, Television Superstar, Lorraine Kelly and First Minister, Nicola Sturgeon.
Lorraine Kelly said, "Companies could do much, much more. Nurseries are really expensive and that's where employers and the government could do so much more."
Political pioneer, Nicola Sturgeon, talks through her experience of women in the workplace, and says, "Gender equality is one of the greatest economic opportunities of this century.
"It's not right for society to underuse the talent of over 5% of our population."
No.1 Magazine is on sale Thursday 29th September, priced £1.75.