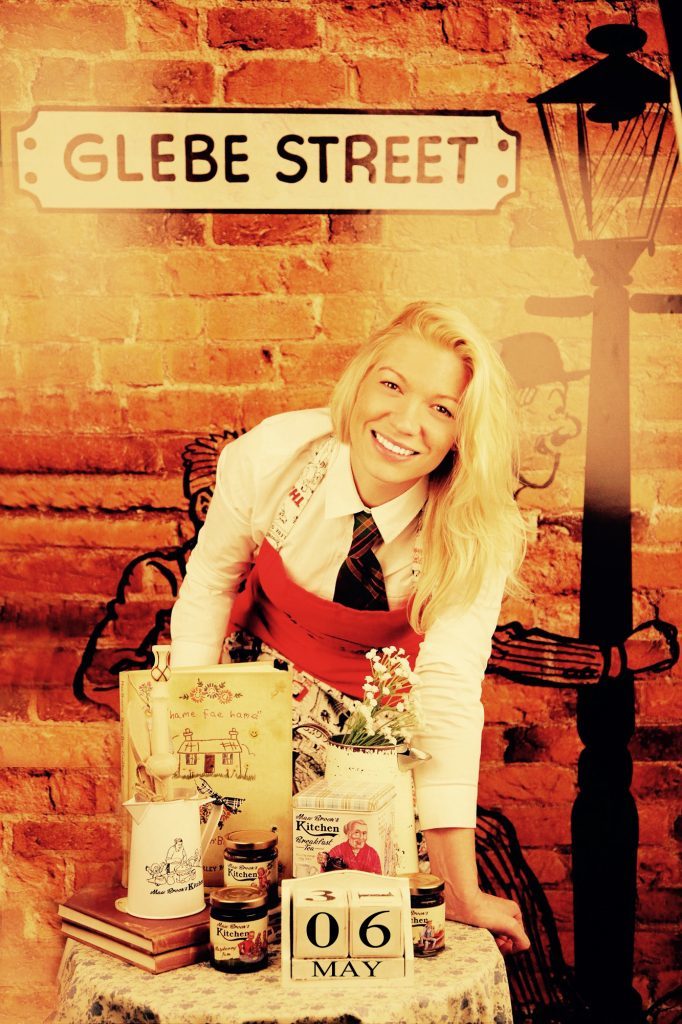 Jings! Crivvens! Maw Broon's Kitchen to open in Dundee
DC Thomson has announced that the first Maw Broon's Kitchen will open in Dundee city centre next year.
Following the retail launch of a range of Maw Broon's Kitchen-branded food products, the publishing company has worked with a selected Licensee to bring an actual Maw Broon's Kitchen to life.  The kitchen will offer Scottish staples from mince 'n' tatties to "efternoon tea" alongside lighter bites and Daphne's deli for those in a hurry.
The venue will aim to capture the essence of The Broons family, who are celebrating the 80th anniversary of their first appearance in the Sunday Post in 1936, by merging old-fashioned notions of hospitality and comfort with good honest food and excellent customer service.
Victoria Tait, a Marketing and Business Development professional is leading the licensing project to bring the kitchen to fruition.
She said, "I'm really excited about Maw Broon's Kitchen.  My family has been in the food industry for over 20 years so it has always been a passion of mine.  I grew up with The Broons and have a real affection for them so I feel extremely privileged to be part of this project.  My family and I are looking forward to bringing such an iconic brand to life right here in DC Thomson's home city of Dundee.
"We want Maw Broon's Kitchen to feel like home and offer good food – just like Maw use to make.  Our aim is that everyone leaves Maw Broon's Kitchen feeling like they've had a big hug fae Maw!"
The concept was tested with a pop-up at The Eat, Drink, Discover Food Festival at Ingliston in September 2014 and received an overwhelmingly positive response.
Victoria continued, "People just loved it.  It created a real sense of nostalgia because everyone was talking about their memories of The Broons.  I'm sure those feelings of warmth will carry through."
The kitchen will offer a range of fresh locally sourced produce with something to tempt everyone's taste buds for breakfast, lunch and tea.
Martin Lindsay, Licensing Manager for Consumer Products at DC Thomson, said, "The launch of a Maw Broon's Kitchen in Dundee, the spiritual home of The Broons, is a very exciting development for the Maw Broon's Kitchen Licensing Programme.
"This is a vision of bringing to life a treasured brand that is built on tradition and old fashioned values.  We see Dundee as being the first step on a Maw Broon's Kitchen roll-out across Scotland within 5 years.''
In addition to the food offering, it's planned that the Dundee venue will host regular events and activities, such as 'baking wi' the bairns', storytelling and live Scottish entertainment, to ensure that Maw Broon's Kitchen offers something for everyone.
ENDS
The Broons
The family is made up of Paw and Maw Broon who are parents to eight children! Maw is the homemaker in charge of all household affairs. The Broons family features two older sons, Hen and Joe, and two grown-up daughters, Daphne and Maggie.  The younger children are Horace, who is the brains of the family, and the Twins (identical boys) plus the Bairn, a cut down version of Maw and wiser than her years. Last, but by no means least, is the roguish Granpaw Broon. Granpaw and the Bairn form a formidable partnership that can usually outsmart the other members of the family.  The marvellous artwork and well observed storylines means that everyone recognises a little of themselves in these classic tales. The strips often feature celebrity appearances and the famous faces that appear in The Broons see it as a great honour.
In 2016, The Broons celebrate the 80th anniversary of their first appearance in the Sunday Post.  The Broons family, Scotland's happy family that makes every family happy, live at 10 Glebe Street in the fictional Scottish town of Auchentogle.