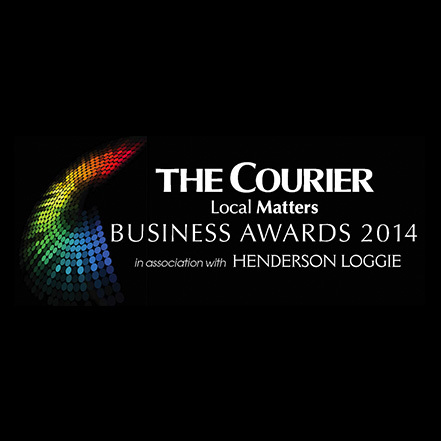 The Courier Business Awards Announce Winners
The Courier Business Awards, in association with Henderson Loggie, has crowned local business winners in front of a sold out crowd at the Fairmont, St Andrews.
The awards, now in their third year, took place on Friday 27th November with over 570 guests enjoying an evening of entertainment and awards, hosted by Nick Hewer.
Awards were presented to a number of categories, including new awards for this year; Apprentice of the Year and Deal of the Year. A Local Matters category was also introduced this year, which was divided into four subcategories to celebrate the best local business in Perthshire, Fife, Dundee and Angus.
The Courier Editor Richard Neville said, "Despite the occasional hurdles that all economies face, the local business scene is thriving. We are seeing inward investment on the back of major infrastructure projects and our established local companies are showing they have the ability to move with the times.
"This year's nominations contained so many inspiring stories of dedication, innovation and achievement making judging a truly difficult job."
The 2015 judging panel was chaired by Clydesdale Bank Chairman Jim Pettigrew.
The Courier Business Awards 2015 winners:
Apprentice of the Year Alastair McLean – Fife Council
Deal of the Year
Bank of Scotland and John St Properties
Digital Business of the Year
Blue2 Digital
Family Business of the Year
Wood Leisure
Growth Business of the Year
CXR Biosciences Ltd
Manufacturing Business of the Year
Rockwell Solutions Ltd
Retail Business of the Year
Jannettas Gelateria
Rural Business of the Year
Stirfresh
Science and Technology Business of the Year
CXR Biosciences Ltd
Services Business of the Year
Beam Orthodontics
Small Business of the Year
Gowrie Contracts Ltd
Social Impact Business of the Year
Dovetail Enterprises
Tourism, Leisure and Hospitality Business of the Year
Forbes of Kingennie Country Resort
Young Business of the Year
Synergy Fabrication Ltd
Local Matters Angus
Rossie Young People's Trust
Local Matters Dundee
Hillcrest Group of Companies
Local Matters Fife
Ivan Wood & Sons Ltd
Local Matters Perthshire
Pitlochry Festival Theatre
Business of the Year
CXR Biosciences Ltd
Outstanding Contribution
Stephen Leckie – CEO, Crieff Hydro