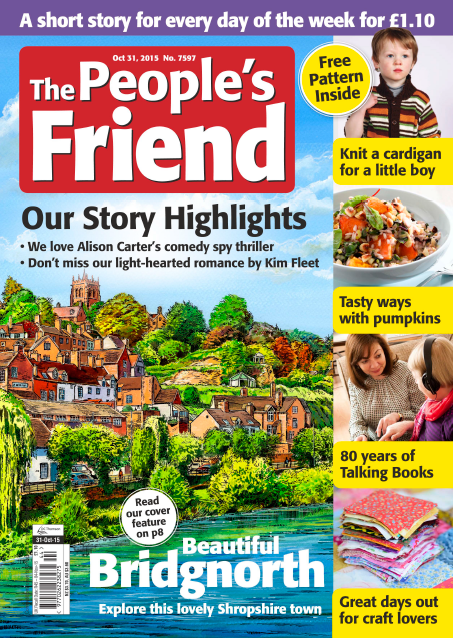 DC Thomson unveils the makeover of a much-loved 'Friend'
The People's Friend, the world's oldest women's weekly magazine, has undergone a design and content refresh.
The People's Friend has today unveiled an exciting makeover, bringing a fresh new look to the magazine, now in its 146th year.
The editorial team at The People's Friend have used the feedback from an extensive reader research programme to develop a bright new look for the 'Friend'. The reader-led research has seen the introduction of new features tailored to the interests of the readership that will sit alongside existing favourites. New genres of short stories and more varied illustration styles will further enhance the title's reputation as the number one publisher of magazine fiction in the UK.
The People's Friend Editor-in-Chief Angela Gilchrist said, "We know how much our readers love the 'Friend', and we've worked really hard to preserve all the elements that make the magazine unique while giving it a bright new look. All of the changes have been suggested by our readers and I'm confident they'll love the new-look magazine.
"It was really important to me to keep the illustrated style of front cover which has been a mainstay of the front page of The People's Friend since 1946. In addition, we've created a new bolder logo to give the magazine a higher profile on the magazine shelves."
Reader focus groups and an extensive in-magazine questionnaire to gather feedback took place from May to August, 2015.
The refresh launches in the October 31st Issue, on sale October 28th.
ENDS
For further information please contact Rebecca Moncrieff, 01382 575697 rmoncrieff@dcthomson.co.uk
Notes to Editors:
THE PEOPLE'S FRIEND
The People's Friend is a weekly women's magazine out every Wednesday. Founded in 1869, the magazine is famous for its fiction and is packed with short stories, serial instalments, cookery, craft, puzzles, gardening, travel and health.
DC THOMSON
DC Thomson & Co Ltd is a private company and one of the leading publishing houses in the UK. The company's headquarters is in Dundee, Scotland, with a London base in Fleet Street. DC Thomson publishes newspapers, magazines, comics and books. The company also has interests in radio, printing, retailing and online services.