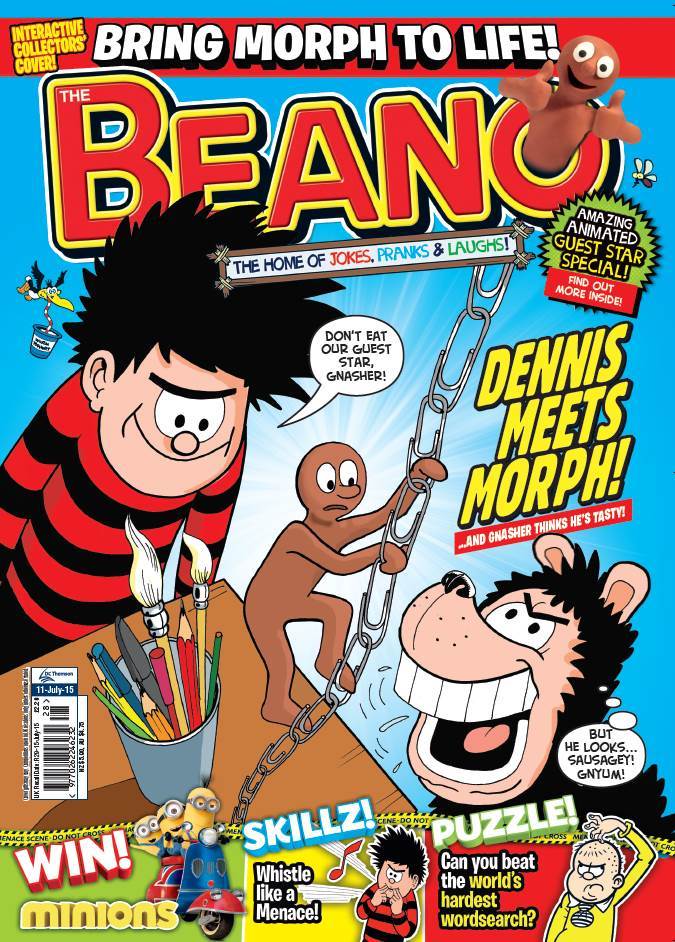 Double Trouble as DC Thomson teams up with Aardman to bring Morph to The Beano
DC Thomson has teamed up with Aardman to bring Morph, the nation's favourite clay character, to The Beano, everyone's favourite comic.
Morph guest stars in The Beano, sharing the cover with Dennis the Menace and Gnasher, and appearing in a specially-commissioned comic strip, which sees Morph escape from Gnasher (who has mistaken him for a sausage) and help Dennis foil a dastardly scheme by Walter Brown his arch-enemy.
Peter Lord, Director at Aardman and creator of Morph, said, "As a huge fan of Dennis the Menace ever since I was a lad (and Gnasher was a pup), I can't tell you how happy it makes me to see our creation Morph starring alongside Dennis in the pages of The Beano. It's fantastic to see these two iconic British mischief-makers joining forces in my all-time favourite comic."
The Beano's Editor Craig Graham said, "We're delighted Morph has joined Dennis and Gnasher in The Beano, although I'm not sure he knew what he was letting himself in for!
Like Dennis the Menace and The Beano, Morph connects brilliantly with people of all ages. We hope this special issue of The Beano will ignite fond childhood memories for older readers, while our younger audience will love bringing Morph to life with the amazing augmented reality cover."
The Beano featuring guest star Morph goes on sale Thursday 9th July.
ENDS
For further information/press requests, please contact Rebecca Moncrieff, on rmoncrieff@dcthomson.co.uk or 01382 575697
Notes to Picture Editors: The cover and selected frames from the strip available via Dropbox HERE
Credit: DC Thomson & Co Ltd 2015
Notes to Editors DC ThomsonDC Thomson & Co Ltd is a private company and one of the leading publishing houses in the UK. The company's headquarters is in Dundee, Scotland, with a London base in Fleet Street. DC Thomson publishes newspapers, magazines, comics and books. The company also has interests in radio, printing, retailing and online services.
The BeanoThe Beano is the quintessential British children's comic, first published by DC Thomson in July 1938 and still printed weekly. It reaches hundreds of thousands* of children every week. The Beano is best known for its famed characters such as Dennis the Menace, Gnasher, The Bash Street Kids and Minnie the Minx. The spin-off BAFTA nominated animation series, Dennis and Gnasher is exported around the world and is one of the highest rated shows on CBBC.*TGI Youth Spring 2014, The Beano readership, 528,000.
AardmanAardman, based in Bristol (UK) co-founded and run by Peter Lord and David Sproxton, is a world leader in animation. It produces feature films, series, advertising and digital entertainment for both the domestic and international market. Their multi-award winning productions are novel, entertaining, brilliantly characterised and full of charm that reflects the unique talent, energy and personal commitment of the very special people who make up the Aardman team. The studio's work is often imitated and yet the company continues to lead the field producing a rare brand of visually stunning and amusing independent and commercials productions.
Morph Morphis the animatedclay character who made his TV debut in 1977 in the children's BBC programme Take Hart alongside the artist and presenter, Tony Hart. He was created and produced for theBBCbyAardman. Morph was a regular fixture on children's television throughout the 70s and 80s, and received his own Blue Peter badge on 9th March 1981, when Blue Peter presenter Sarah Greene visited the Aardman studios. Almost 40 years after his TV debut, Morph is back in 15 new mini-adventures, animated in clay and funded by the public through the Kickstarter crowdfunding website. The episodes launched throughout 2014 on Morph's dedicated YouTube channel and are now airing on CBBC.