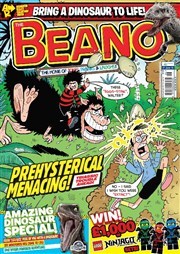 The Beano brings dinosaurs to life.
The Beano features an augmented reality cover with an escaped Indominus Rex from Jurassic Park. Readers can make Indo stomp all over their copy of The Beano, roar, and even take a photo with him.
Issue dated 27th June tells the story of Dennis releasing the dinosaurs from the park only to be chased by them.
Dennis and Gnasher end up in a lab where they enlist Professor Von Nutter to help their fight against the esscaped dinsosaurs. Deciding to fight fire with fire, Professor Von Nutter creates a bigger and better dinosaur, a Gnashosaurus.
Pick up a copy of The Beano to find out what happens in Dennis' dinosaur adventure.