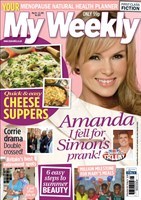 My Weekly Reveals the UK's Top Retirement Spots
My Weekly reveals the UK's top retirement spots by comparing the most important considerations for retirees who are re-locating.
The magazine looked at the 11 most popular locations throughout the country with house-buyers over 60, comparing factors such as climate, house prices, healthcare and pastimes. Results are published in the magazine, with three ladies sharing their re-location experiences of Eastbourne, Kendal and Torquay.
My Weekly Features Editor Sally Rodger said, "The prospect of retirement brings with it a whole host of new possibilities and with that, multiple decisions to be made about living in a way that suits you in this exciting new phase of your life.
"This feature provides readers with must-know information on factors like crime in the area, transport links and average rainfall. These are all important considerations when thinking about the best mix of requirements for the perfect retirement lifestyle."
'UK's Top Retirement Spots' will appear in My Weekly issue dated May 23 alongside the title's regular features, celebrity interviews, cookery section, advice and contemporary fiction, and goes on sale Tuesday 19th May 2015.
ENDS
For further information contact Rebecca Moncrieff, DC Thomson, 01382 575697 / rmoncrieff@dcthomson.co.uk.
Notes to Picture Editors:
Images courtesy of DC Thomson.
Notes to Editors:
My Weekly
My Weekly is a women's magazine providing an inspiring mix of celebrity interviews, specially-commissioned cookery features, down-to-earth advice from expert columnists, and exclusive contemporary fiction. The first issue was published in April 1910, and over the last 100 years plus, My Weekly has been privileged to mark many momentous national occasions.
The magazine has a weekly average readership of over 200,000 and benefits from a growing subscription base plus volume retail sales across major multiples, specialist newsagents and independent retailers throughout the UK and overseas. Throughout the year, My Weekly produces a selection of bumper issues offering consumers special content and presentation. In addition to the weekly magazine, the brand includes My Weekly Pocket Novels, a fortnightly series of quick, easy reads by much loved authors designed to fit in a handbag or pocket, and the My Weekly Annual, a collection of short stories, recipes and more perfect for Christmas presents or a personal treat.
DC Thomson
DC Thomson & Co Ltd is a private company and one of the leading publishing houses in the UK. The company's headquarters is in Dundee, Scotland, with a London base in Fleet Street. DC Thomson publishes newspapers, magazines, comics and books. The company also has interests in radio, printing, retailing and online services.