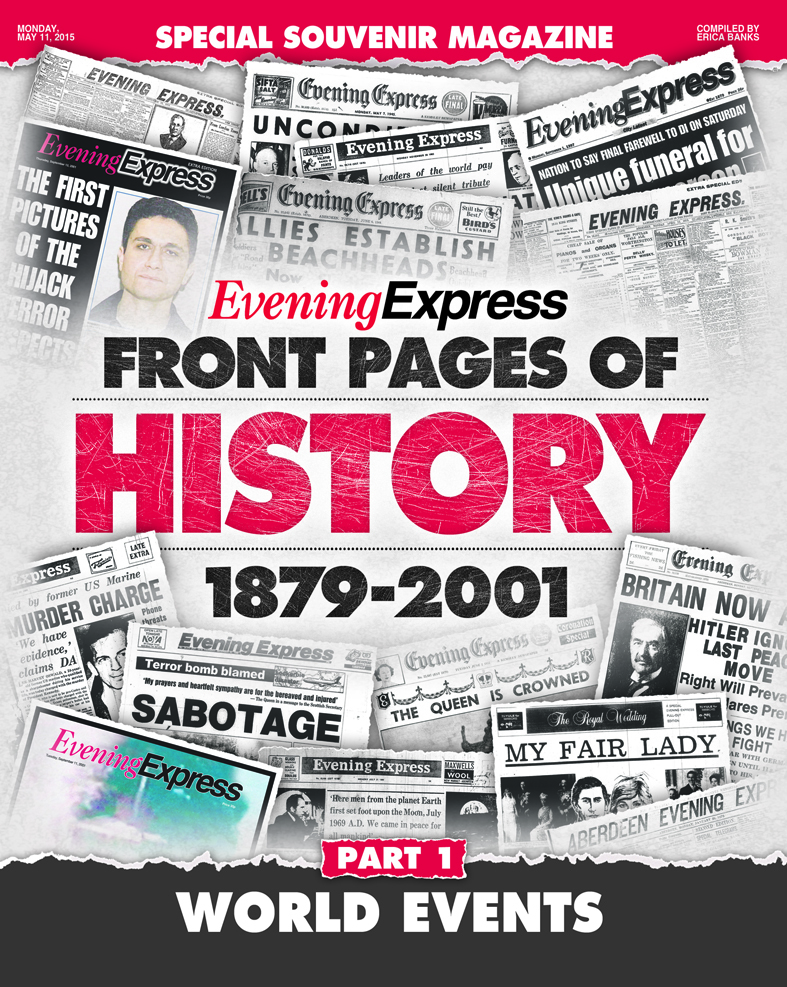 Evening Express to run 'Front Pages of History' series
Aberdeen title, the Evening Express, is running a 'Front Pages of History' series. Five magazine supplements will run nightly from Monday 11th to Friday 15th May 2015. The special series will focus on the title's coverage of some of the biggest news events in history and each issue will include some of the most memorable and iconic front pages from the Evening Express.
This five-part collection, taken directly from the Evening Express archives, chronicles major events from past to present, including the D-day landings and the assassination of JFK. Also included is the story of the North-east body snatchers of the 1880s and the man known as the "Phantom" who was behind almost 100 break-ins in the area in the 1950s.
The first in the series will cover 'World Events' including the sinking of the Titanic and the Coronation of Queen Elizabeth II. The remaining magazine supplements cover crimes and trials, major events, the changing face of the North-east and sport.
Evening Express Editor Alan McCabe said, "The first Evening Express was published on January 20th 1879 – and next week we are featuring some of the best front pages from the last 135 years in a series of special magazines.
"Sometimes shocking, sometimes tragic and, at times, beyond belief – the Evening Express is now giving readers the opportunity to see how we covered major local, national and international events all those years ago."
The Evening Express 'Front Pages of History' series begins Monday 11th May 2015 and runs for five days.
ENDS
Notes to Picture Editors:
Cover of first in the 'Front Pages of History' series. Issue date: Monday 11th May 2015. D.C. Thomson & Co. Ltd. 2015
Notes to Editors:
Evening Express
The Evening Express is published six days a week and reaches more readers across its circulation area than any other newspaper. Two editions are printed daily allowing the Evening Express to get breaking news on to the streets of Aberdeen on the day the news happens.
The newspaper covers the north-east of Scotland and the Scottish Parliament at Holyrood in Edinburgh. The Evening Express also features a portfolio of supplements across the week focussing on motors, property, jobs, eating out and entertainment as well as producing the free weekly newspaper the Aberdeen Citizen, picture pull-out The Aberdonian, the Green Final sports section and publishing the title's website www.eveningexpress.co.uk.
Columnists include TV presenter Cat Cubie, Aberdeen Football Club legends Willie Miller and Joe Harper and Aberdeen's former Lord Provost John Reynolds.
DC Thomson
DC Thomson & Co Ltd is a private company and one of the leading publishing houses in the UK. The company's headquarters is in Dundee, Scotland, with a London base in Fleet Street. DC Thomson publishes newspapers, magazines, comics and books. The company also has interests in radio, printing, retailing and online services.