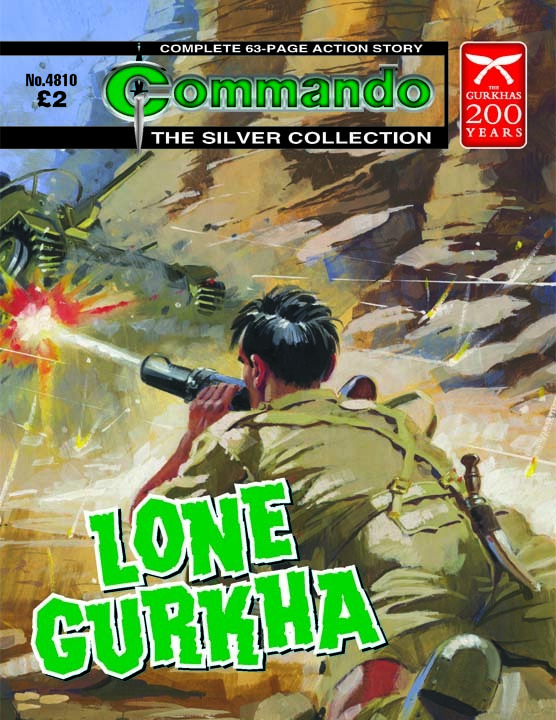 Commando Re-Release Special Edition Stories to Support Gurkha 200
Commando, DC Thomson's action and adventure compact graphic novel, is re-releasing two special edition books to support Gurkha 200.
Re-released issues of Commando's 'Lone Gurkha' and 'Gurkhas to the Rescue' commemorate 200 years of outstanding service to the Crown by the United Kingdom's Brigade of Gurkhas.
The Commando books will be given to guests at The Queen's Gurkha Engineers Dinner at The Tower of London in May.
Commando Editor Calum Laird said, "While Commando is a fiction series, the stories are set against an authentic background based in solid fact. That's a problem with Gurkha tales as their true feats are so much more astonishing than anything we could make up in fiction."
Speaking for the Gurkhas, Captain Charlie Hardaker from 70 Gurkha Field Squadron, The Queen's Gurkha Engineers said, "This year the Brigade of Gurkhas commemorates 200 years of outstanding service and loyalty. Gurkhas have served in every major conflict and have conducted themselves with unparalleled distinction alongside their British counterparts.
"Today, Gurkhas are renowned for their graciousness, loyalty and courage. As reserved and mild-mannered in daily life as they are fearless and tenacious in battle, they are dignified people and excellent soldiers."
Calum Laird explains, "These stories are testament to the exceptional dedication the Gurkha brigades give to the British Army."
'Lone Gurkha' tells the story of a solitary Gurkha preparing to hold off a heavy Japanese assault. He comes from a family of warriors and now it is his turn to prove that he was a worthy owner of his razor-sharp kukri. 'Gurkhas To The Rescue' sees idealistic Lieutenant Tom Bell framed by his treacherous C.O. for a crime he did not commit. Fortunately, his fiercely loyal Gurkha platoon are prepared to follow him anywhere to prove his innocence.
'Gurkhas to the Rescue' (Issue 4808) and 'Lone Gurkha' (Issue 4810) go on sale in store and online Thursday 7th May.
Subscribe here. http://www.commandocomics.com/print-subscription
ENDS
For further information on Commando, DC Thomson, its brands and titles, please contact Rebecca Moncrieff on 01382 575697 / rmoncrieff@dcthomson.co.uk
Notes to Picture Editors:
Images courtesy of DC Thomson.
Notes to Editors:
COMMANDO
Commando is a 63-page compact graphic novel of around 135 black-and-white illustrated frames with text in panels and balloons to provide the narrative. It is wrapped in a full-colour cover that folds around the back of the book where you can find the trademark dagger and the back cover write-up. Between the covers lies the story fiction set against an authentic background based in solid fact.
GURKHA 200
Gurkha 200 is jointly celebrated by The Brigade of Gurkhas, The Gurkha Welfare Trust, The Gurkha Brigade Association and The Gurkha Museum.
DC THOMSON
DC Thomson & Co Ltd is a private company and one of the leading publishing houses in the UK. The company's headquarters is in Dundee, Scotland, with a London base in Fleet Street. DC Thomson publishes newspapers, magazines, comics and books. The company also has interests in radio, printing, retailing and online services.