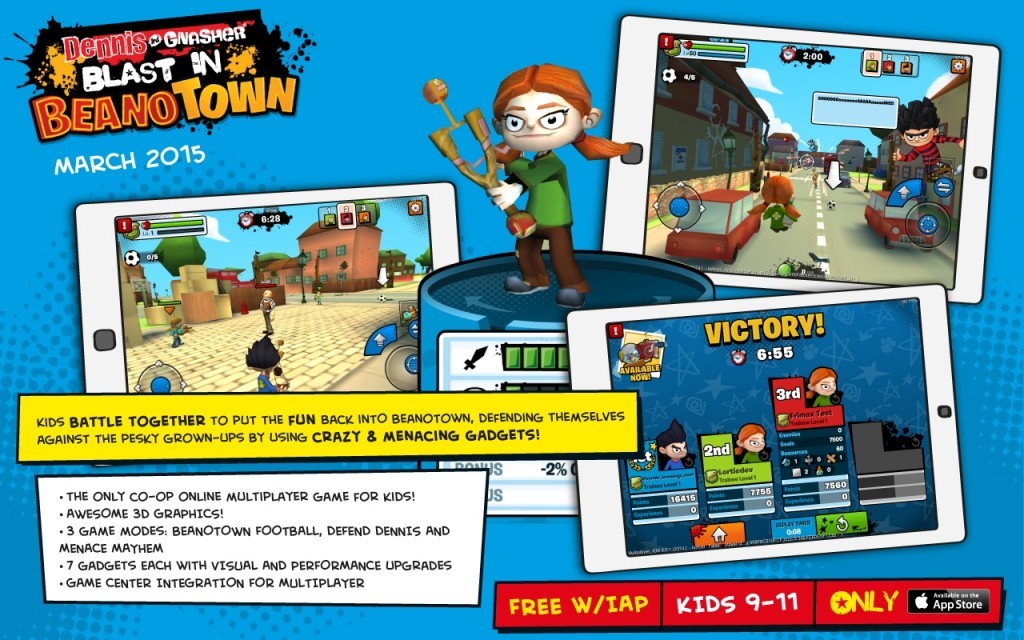 The Beano launches first 3D multiplayer action game
In Dennis and Gnasher Blast in Beanotown, the mayor has banned all fun and grumpy adults patrol the streets. Players join Dennis and Gnasher in a battle to put the fun back in to Beanotown. The game features real-time multiplayer battling, allowing players to work as a team or go head-to-head with friends and family.
Dennis and Gnasher Blast in Beanotown offers three different game modes – Beanotown Football, Dennis Defence and Menace Mayhem*, and a range of fun gadgets allow players to 'blast' pesky adults with including rotten tomatoes, stinky mud and trash. Players can also collect resources and upgrade gadgets with the aim of becoming the ultimate menace. View the trailer for the Dennis & Gnasher Blast in Beanotown gamehere.
The new game forms part of a digital expansion for The Beano brand which has also seen Dennis and Gnasher launch in Minecraft and on App Store with Dennis & Gnasher Adventures! and Where's Dennis (and Gnasher). Project Lead Mark Cotton said, "Dennis and Gnasher Blast in Beanotown is an exciting new launch for us. We have bottled up the innocent mischief, humour and energy of The Beano and transported it into a brand new genre.
"We found that parents felt there was a lack of games that were engaging and fun for kids, but also could be trusted to be age appropriate and free of aggressive, unlimited in-app purchases. Dennis and Gnasher Blast in Beanotown promotes fun, safe, social play."
Mark adds, "Our play tests with kids have shown us that the game appeals really strongly to both young and old fans of The Beano plus those new to the brand."
Frima Studios CEO Steve Couture said, " The wackiness of the brand has allowed our team to be very creative for the gameplay. This has resulted in a game that is innovative, fun and highly social."
To download the appclick here.