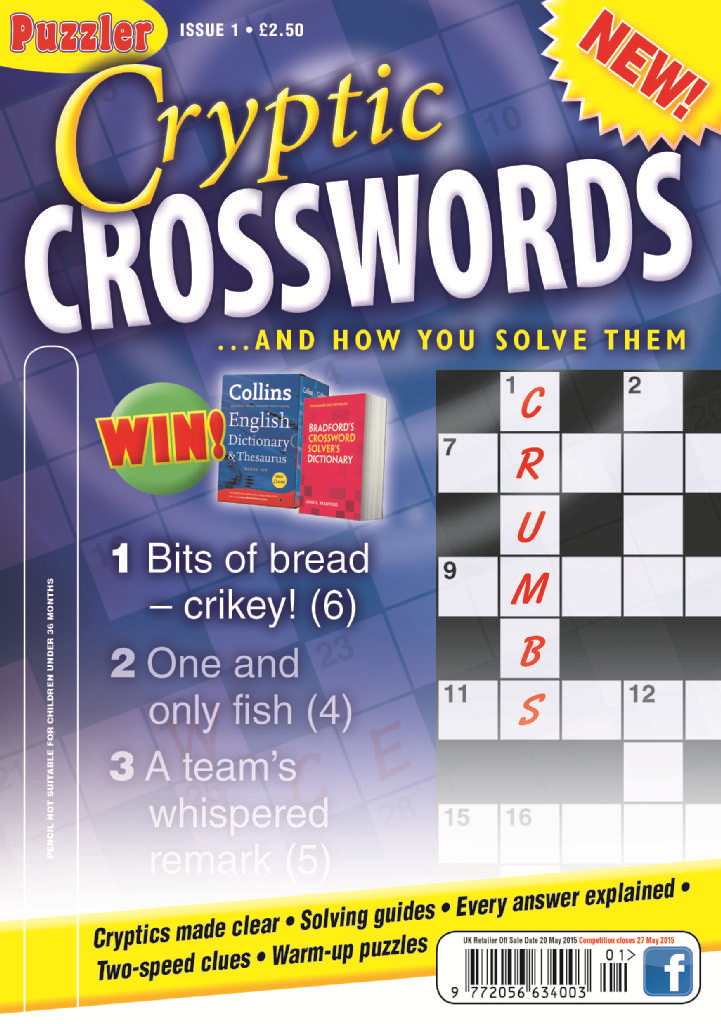 Think you can't do cryptics, think again!
In spite of being a nation of crossword lovers, with over 12 million Brits attempting crosswords weekly, cryptic crosswords are seen by many as the reserve of the super-intelligent. Puzzler Media the UK's largest creator of puzzles – has unveiled a new magazine, Cryptic Crosswords, designed to unlock cryptics for a wider audience.
The new 64-page magazine includes a guide to solving cryptic crosswords defining the terminology used for cracking the puzzles, together with a series of 'warm-up' puzzles created specifically to get solvers into the cryptic mindset.
Whilst crosswords are found globally, the cryptic version containing anagrams, homonyms and other forms of word play are unique to Britain. Part of the puzzle's success is down to the variation and versatility of the English language, which allows for crossword setters and solvers to engage in elaborate word play.
Notoriously employed by the British government as a recruitment tool for code breakers, the famous "Bletchley Park recruitment" crossword identified both men and women with a natural talent for logic and problem solving and has long since been regarded as the puzzle for the brilliant. However, the new offering from Puzzler Media, breaks this myth proving that the cryptic crossword is not to be feared and, with practice, anyone could meet Alan Turing's entry requirement.
Catherine Filby, Editor of Cryptic Crosswords, comments, "Cryptic crosswords are enigmatic puzzles, as solvers need to apply lateral thinking and not just factual knowledge in order to complete them; most of the time, the answer is held within the clue and puzzlers can spend hours looking for an answer that is written on the page in front of them.
"We find many people shy away from cryptic crosswords, believing they are too difficult, however, the new magazine is devised to demystify the cryptic clues. In fact, cryptic crosswords are often more accessible, as they do not require the same general knowledge needed to complete a standard crossword. As a result, completing a cryptic crossword can incite a greater sense of satisfaction than any other type of puzzle, which also means it doesn't take long for a puzzler to become hooked."
Puzzler Media's Cryptic Crosswords, is a bi-monthly magazine, which launches on 18 March 2015. It is available to buy for £2.50 in Morrisons, Sainsbury's, Tesco, WH Smith and at all good newsagents.
ENDS
Notes to editors
Puzzler Media Limited
Puzzler Media is the UK's largest puzzle content provider, with over 40 years of puzzling expertise.
Puzzler Media produces a range of magazines, books, puzzles, card games, and apps across a number of digital platforms, including mobile phones, tablets, as well as online.
The company is synonymous with producing high quality puzzles. It is best known for its comprehensive range of puzzle magazines including The Puzzler and its sister title, Puzzler Collection, which is the UK's best-selling puzzle magazine and always appears in the ABC Annual Top 100.
In addition to its own titles, Puzzler Media supplies bespoke print and digital puzzles to numerous national and regional newspapers, as well as a variety of consumer magazines, generating almost a quarter of a million puzzles every year.
Puzzler Media is the market leading puzzle publisher in the UK and also has successful magazine businesses in both Australia and New Zealand.