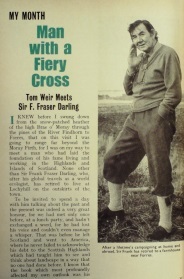 The Scots Magazine to republish Tom Weir columns online
The Scots Magazine is releasing its stable of archived columns by world-renowned adventurer and naturalist, Tom Weir. The columns will be published on the title's website continuing the celebrations that marked 100 years since his birth in December of last year. The Scots Magazine will post a new column every Friday on www.scotsmagazine.com.
Weir produced monthly column, 'My Month', for The Scots Magazine for more than 50 years. In his columns he reflected on the natural beauty of his home country, focusing on life in Scotland's countryside. His columns are widely known for his keen sense of observation and his shrewdly humorous style of writing. Tom Weir was one of the first to raise awareness about the environment and natural heritage which he talks about in many of his columns.
The Scots Magazine Editor Robert Wight said, "To celebrate Tom's life and introduce a new generation to his remarkable work we've decided to republish his columns on our website. Every Friday, we'll publish a classic column, starting from 1975. Each is beautifully written and gives a fascinating insight into a way of Scottish life that, in some ways, has changed utterly but, in others, seems hardly to have changed at all."
Tom's columns are currently being published on The Scots Magazine website. For further details visit www.scotsmagazine.com.
ENDS
Notes to Editors:
The Scots Magazine
The Scots Magazine is a glossy, monthly magazine focussed on Scotland her People, Places, Culture and Leisure. It features some of the finest writing on all Scottish life plus stunning photography showcasing Scotland's cities and wild spaces in all their glory.
Believed to be the oldest magazine still in publication, it was first published on 9th February 1739 (in 2014 the magazine celebrated its 250th anniversary), as a 48-page pamphlet, priced sixpence monthly. It was edited and printed in Edinburgh.
With a monthly average readership of over 200,000 The Scots Magazine is the world's best-selling Scottish-interest publication. It boasts a very healthy subscription base, plus newsstand sales in Scotland, the wider UK and overseas.
DC Thomson
DC Thomson & Co Ltd is a private company and one of the leading publishing houses in the UK. The company's headquarters is in Dundee, Scotland, with a London base in Fleet Street. DC Thomson publishes newspapers, magazines, comics and books. The company also has interests in radio, printing, retailing and online services.