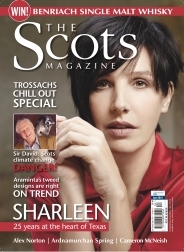 Sir David Attenborough speaks to The Scots Magazine about 'captivating' natural Scotland
The Scots Magazine's April issue features a five page interview with Sir David Attenborough in which he discusses his love of Scotland and warns of the dangers of global warming on Scotland's 'highly specialised' wildlife. He also cites the Bass Rock bird sanctuary as his favourite local filming moment.
Speaking of Scotland's 'inherent beauty' Sir David states, "Scotland is a wonderfully fascinating place for wildlife and nature. It has, in my opinion, some of the most marvellous landscapes and wildlife spectacles you will find anywhere."
Among his favourite places to visit in Scotland, he name-checks the Cairngorms as being "truly wonderful desolate and sometimes dangerous" and suggests that visiting the Scottish Seabird Centre jewel Bass Rock remains his favourite local filming memory, "It was a truly wonderful experience. I loved everything about it. It was everything I could have possibly hoped for, and to see the gannets in their habitat was spectacular."
The April issue of The Scots Magazine goes on general sale Thursday 19th March 2015.
ENDS
Notes to editors:The Scots MagazineThe Scots Magazine is a glossy, monthly magazine focussed on Scotland her People, Places, Culture and Leisure. It features some of the finest writing on all Scottish life plus stunning photography showcasing Scotland's cities and wild spaces in all their glory.
Believed to be the oldest magazine still in publication, it was first published on 9th February 1739 (in 2014 the magazine celebrated its 250th anniversary), as a 48-page pamphlet, priced sixpence monthly. It was edited and printed in Edinburgh.
With a monthly average readership of over 200,000 The Scots Magazine is the world's best-selling Scottish-interest publication. It boasts a very healthy subscription base, plus newsstand sales in Scotland, the wider UK and overseas.
Facebook: /TheScotsMagazine and Twitter: @ScotsMagazine
DC ThomsonDC Thomson & Co Ltd is a private company and one of the leading publishing houses in the UK. The company's headquarters is in Dundee, Scotland, with a London base in Fleet Street. DC Thomson publishes newspapers, magazines, comics and books. The company also has interests in radio, printing, retailing and online services.