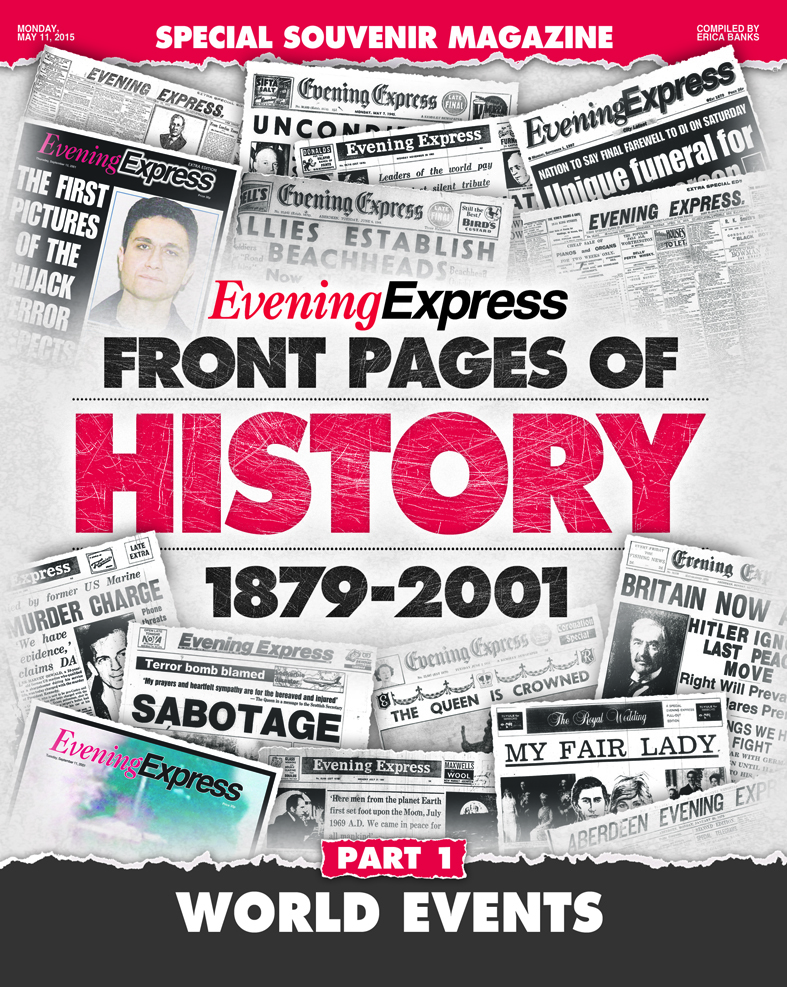 Evening Telegraph to run 'Front Pages of History' series
Dundee title, the Evening Telegraph, is to launch a 'Front Pages of History' series. Five magazine supplements will run nightly from Monday 2nd to Friday 6th February 2015. The special series will focus on the title's coverage of some of the biggest news events in history and each issue will include some of the Evening Telegraph's most memorable and iconic front pages.
The first in the series will cover 'World Events' and features two World Wars, the sinking of the Titanic, the assassination of JFK and the Queen's coronation. It also takes a look back at the first Evening Telegraph ever published. The second, titled 'Local Crimes', includes coverage of some of the most notorious murders in Tayside such as the Templeton Woods killings, the Gow's gun shop tragedy and the infamous Arbroath head on the beach case. The third supplement will look at the changing face of Dundee; from the Tay Rail Bridge disaster to the Morgan Academy fire and the V&A development, while the fourth, on 'Dundee Life', features front pages covering the Timex dispute, the day Ford walked away from Dundee and the city's reaction to the referendum vote. The final supplement will take a look at a subject which is close to Dundonians' hearts sport. It features archive pages marking Dundee FC winning the league, Dundee Utd's European exploits and local athletes' glories on the world stage.
Evening Telegraph Editor Richard Prest said, "The Evening Telegraph is a Dundee institution and has brought readers all the latest news, from home and abroad, for 137 years.
"To see how our former colleagues covered some of the biggest stories in history is absolutely fascinating."
The Evening Telegraph 'Front Pages of History' series begins Monday 2nd February 2015 and runs for five days.
ENDS
Notes to Picture Editors:
Cover of first in the 'Front Pages of History' series. Issue date: Monday 2nd February 2015. D.C. Thomson & Co. Ltd. 2015
Notes to Editors:
Evening Telegraph
The Evening Telegraph has been delivering the news and fighting for its readers since 1877. The title has seen many changes including a redesign, had its pagination increased and seen the launch of its new website www.thetele.co.uk.
The Evening Telegraph provides unrivalled football coverage, from the latest news at Tannadice and Dens to kids' Sunday kick-abouts.
Each Thursday TV presenter and author Martel Maxwell gives her opinions on a range of subjects from the latest celebrity gossip to the everyday issues affecting Dundee families.
DC Thomson
DC Thomson & Co Ltd is a private company and one of the leading publishing houses in the UK. The company's headquarters is in Dundee, Scotland, with a London base in Fleet Street. DC Thomson publishes newspapers, magazines, comics and books. The company also has interests in radio, printing, retailing and online services.