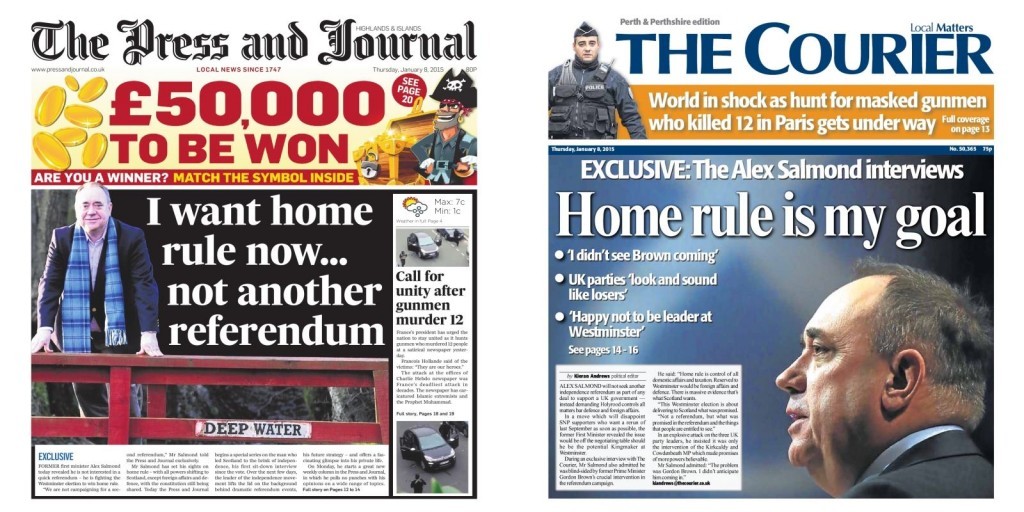 Alex Salmond says no to another referendum
DC Thomson titles secure exclusive in-depth interview with former First Minister of Scotland.
In an exclusive interview with DC Thomson daily titles, The Press and Journal and The Courier, Alex Salmond revealed that he doesn't want another referendum he wants The Vow to be delivered by securing full control of all powers except foreign policy and defence.
The previous First Minister disclosed his thoughts yesterday (WED 7th) in a revealing and insightful meeting with the DC Thomson newspaper titles; his most in-depth post-referendum interview to date.
In paper today, (THURS 8th) Alex Salmond states, "We are not campaigning for a second referendum we've had a referendum. Another referendum is a matter for the future.
"This Westminster election is about delivering to Scotland what was promised. I am determined that these promises are now redeemed, and the way to do that is to elect a block of SNP MPs they are the real guarantors of The Vow.
"That's what the campaign is. Nothing else it's to deliver what was promised to us."
Launching today (THURS) in The Courier and The Press and Journal, the series featuring Alex Salmond will reveal his true feelings on Gordon Brown, his aim to win the 'war at Westminster', what it was like to be First Minister of Scotland and the worst and best moments of his time in office.
From Monday 12th January 2015, the titles have secured a weekly column by Alex Salmond which will feature his straight talking views. Salmond says, "You might love the views in my column. You might hate them. You won't be able to ignore them."
Alex Salmond joins a number of well-known names who write for the DC Thomson titles including The Press and Journal columnists Iain Maciver and Ron Ferguson and The Courier's Eve Muirhead and Jim Crumley.
The Alex Salmond interview series will run from Thursday 8th January 2015 in both The Press and Journal and The Courier. It will be available from www.thecourier.co.uk and www.thepressandjournal.co.uk one day after appearing in-title. The weekly column begins on Monday 12th January 2015.
ENDS
Notes to Editors:The CourierThe Courier is one of Britain's biggest regional morning newspapers and is an established title in east central Scotland. With five daily editions, The Courier provides in-depth local news for Perthshire, Fife, Angus and The Mearns and Dundee. Teams of reporters based in our offices in Dundee, Perth, Kirkcaldy and Arbroath have excellent knowledge of local issues and fill more than six pages a day of news from their patches. At The Courier, we believe that Local Matters and that is exactly what you will find in our pages and on our website.
The Press and JournalThe Press and Journal features six distinct and varied editions which are produced each day and circulated across the north and north-east of Scotland. Each edition reflects community activity and interests of the individual area. The newspaper's aim is to remain local and relevant to its readers while providing Scottish, national and international news. The Press and Journal carries weekly supplements including Your Home, Your Car, Your Weekend and Your Life and a monthly Energy supplement. The Press and Journal also publishes occasional, quarterly and monthly supplements, including an Energy supplement.
DC ThomsonDC Thomson & Co Ltd is a private company and one of the leading publishing houses in the UK. The company's headquarters is in Dundee, Scotland, with a London base in Fleet Street. The company publishes newspapers, magazines, comics and books. It also has interests in radio, printing, retailing and online services.